A Contemporary
Southern City with History
Since its foundation in 1733, Savannah has successfully woven together an intricate tapestry of colonial history and Southern hospitality. It wasn't until the 1950s that a group of women banded together as the Historic Savannah Foundation in an effort to preserve important structures. From there, Savannah began its transformation into a refined, elegant and modern southern city while maintaining its historic groundwork and esteemed reputation as the "True South."
Sorry Charlie's Oyster Bar
116 W Congress St, Savannah, GA 31401 |(912) 234-5397
Sit down to a memorable meal at a casual raw bar and restaurant specializing in local seafood, regional Southern plates, cold cocktails, and craft beers on draft. Sorry Charlie's Oyster Bar offers an extensive menu of Georgia-inspired plates, sips, and snacks, including hot boiled peanuts, a pimento cheese cornbread skillet, crispy oyster po'boys, shrimp and grits, and a house-batched recipe for Fish House Punch.
River House Seafood
125 W River St, Savannah, GA 31401 | (912) 234-1900
Located in a restored building from the 1700s that overlooks the Savannah River, River House Seafood serves up refined seafood plates and Southern specialties in a rustically elegant atmosphere. Savor the likes of fried green tomatoes, seafood boil specials, and fresh-caught Mahi blackened on an iron skillet. End your lunch or dinner with sweet, made-from-scratch selections like chocolate hazelnut bread pudding and praline cheesecake.
Goose Feathers Cafe
39 Barnard St, Savannah, GA 31401 | (912) 233-4683
A European-style cafe and bakery in Downtown Savannah, Goose Feathers Cafe serves breakfast, brunch, and lunch favorites. Bread, pastries, and other confections are baked fresh every day, alongside flavorful soups, salads, and sandwiches. In addition, Goose Feathers Cafe is home to some of the South's best bread pudding - as featured in an article from Taste of the South magazine - which can be served in single or "feed the flock" sizes.
SCAD Museum of Art
601 Turner Blvd, Savannah, GA 31401 | (912) 525-7191
Founded in 2002 at the Savannah College of Art and Design to offer students a special resource, the SCAD Museum of Art features a wide collection of contemporary artwork from international artists. By expanding learning opportunities beyond the classroom, this modern museum offers an exceptional educational outlet and solidifies itself as a premier contemporary art museum.
Ships of the Sea Maritime Museum
41 Martin Luther King Jr Blvd, Savannah, GA 31401 | (912) 232-1511
Located in the historic Scarborough House, the Ships of the Sea Maritime Museum exhibits a collection of artifacts, antiques, ship models, and paintings that serve as an ode to the rich maritime history of Savannah in the 1700s and 1800s. In addition, the museum includes a picturesque parlor garden, flourishing flower gardens, and unique event space available for rental.
Savannah History Museum
The Savannah History Museum is located in a historic railway shed from the 1800s in Tricentennial Park. Visitors to this museum will learn all about Savannah, Georgia's centuries of history through exhibits and works focusing on art, culture, the military's past, and the evolution of the city's industry. Get a deep understanding of Savannah's history through the Revolutionary War, the Civil War, and modern times.
Jepson Center for the Arts
207 W York St, Savannah, GA 31401 | (912) 790-8800
Discover a rich collection of modern art within the historic city of Savannah, Georgia, at the Telfair Museums. Jepson Center for the Arts offers interactive exhibits, modern architecture, contemporary installations, and works demonstrating a range of modern artistic movements. From the renowned European masters of classic masterpieces to up-and-coming artists creating pieces for the 21st century, you'll find many inspiring showcases throughout.
Georgia State Railroad Museum
655 Louisville Rd, Savannah, GA 31401 | (912) 651-6823
The Georgia State Railroad Museum can be found at a historic Central of Georgia Railway site within Tricentennial Park. This museum is the perfect visit for anyone interested in locomotives and the history of automation at large. Guests can go on guided tours, explore vintage railcars, and more. Plus, a special schedule of train rides can bring you and the family along for a memorable activity.
City Market
19 W Bryan St, Savannah, GA 31401 | (912) 232-4903
Covering four blocks in the center of Savannah, City Market has offered a hub of shopping, dining, and entertainment since it was established in the early 1700s. Located just over a half-mile from The Bluff Hotel, visit this bustling town market to see performances from local musicians, browse art galleries on the street, and enjoy some of the best boutiques and nightlife Savannah has to offer.
Rousakis Riverfront Plaza
John P. Rousakis Riverfront Plaza, Savannah, GA 31401
Rousakis Riverfront Plaza is located on the banks of the Savannah River, offering a panoramic backdrop of the waterfront. An outdoor mall and pedestrian plaza spanning nine blocks, Rousakis Riverfront Plaza is an exciting go-to for drinks, dining, music, people-watching, and shops, including the illustrious Riverstreet Sweets, which is known to have the best pralines outside of New Orleans.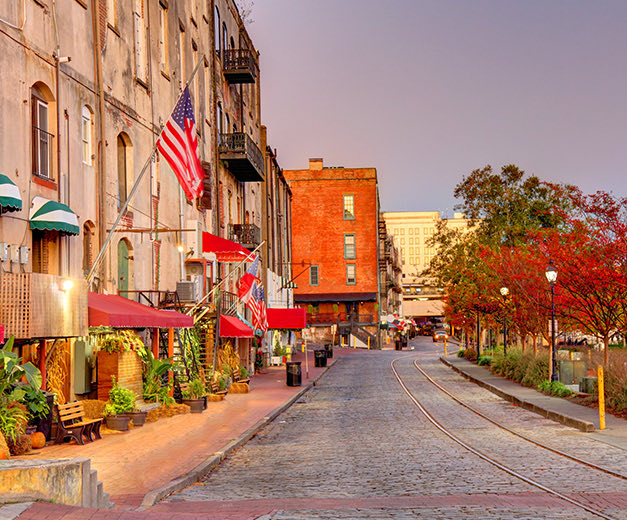 Simply Savannah
301 E River St, Savannah, GA 31401 | (912) 443-0272
Located by the river, Simply Savannah is a spacious shop selling charming souvenirs, Savannah-themed memorabilia, books, cookware, home decor, and more. Bring a piece of your Savannah trip home with you, or find quintessential gifts for others in your life at this dazzlingly eclectic gift shop.
River Street Market Place
502 E River St, Savannah, GA 31401 | (912) 629-2647
This open-air market place can be found on the north side of Savannah's famous "Waving Girl" monument. Built in the same style as open-air markets that occupied River Street during the 19th century, River Street Market Place includes over 70 shops one mile away from The Bluff Hotel. Look through a large pavilion space with trendy gift kiosks, food vendors, jewelry stalls, and more.
Forsyth Park
2 W Gaston St, Savannah, GA 31401 | (912) 351-3841
Covering 30 acres in Savannah, Georgia's historic district, Forsyth Park is both the largest and oldest park in the Savannah area. Park-goers can marvel at Savannah's most famous fountain within the park, which was installed in 1838 and built to reflect the fountains at the Place de la Concorde in Paris. The park is complete with tennis courts, basketball courts, an amphitheater, a local library, and more.
Old Town Trolley of Savannah
234 Martin Luther King Jr Blvd, Savannah, GA 31401 | (855) 245-8992
Jump on board a first-rate sightseeing tour of the city with the Old Town Trolley of Savannah. Experience a unique form of urban transit with real-time narration, knowledgeable city guides, unlimited hop-on/hop-off, and a trolley stop locator app available by phone.
Savannah Visitor Center
301 Martin Luther King Jr Blvd, Savannah, GA 31401 | (912) 944-0455
The Savannah Visitor Center is located inside a historic Central of Georgia Railway Passenger Station. This tourist information center offers a plethora of history and information for those visiting the city of Savannah. In addition, a gift shop and museum on-site showcase more essential information about Savannah, Georgia.
Savannah's Waterfront
E River St, Savannah, GA 31401
Filled with restored cotton warehouses, old cobblestone streets, and an abundance of historic sites, Savannah's Waterfront is a one-of-a-kind location with exciting events, activities, and entertainment year-round. Take a walk along the river and hop between specialty shops, gourmet dining, unique city tours, and lively nightlife.
Savannah Carriage Tours
2 W Bay St, Savannah, GA 31401 | (912) 443-9333
Experience the city of Savannah, Georgia, in an exceptional way: from the royal comfort of a horse-drawn carriage. Visitors of Savannah can go on a guided carriage tour and take in the refined sights that surround the area, with both public and private horse carriage tours available.
Dolphin Magic Tours
313 E River St, Savannah, GA 31401 | (912) 897-4990
Get ready to experience the majesty of dolphins in their natural habitat with Savannah's Dolphin Magic Tours! Offering the largest dolphin boat in Savannah, Dolphin Magic Tours is Coast Guard-certified for up to 48 passengers. Knowledgeable tour guides offer valuable information about the area and waterways while bottlenose dolphins can be spotted along the way.
Bull River Cruises
36 Wilmington Island Rd, Savannah, GA 31410 | (912) 898-1800
Hop onto an eco-adventure tour that takes you through the awe-inspiring nature of coastal Georgia. Bull River Cruises offers a variety of boat tours, including history tours, dolphin tours, private parties, trips to the Barrier Islands, and more. From serene saltwater marshes to historic waterfront homes, see all the beauty of Savannah aboard an unforgettable river cruise.
Savannah National Wildlife Refuge
694 Beech Hill Ln, Hardeeville, SC 29927 | (843) 784-2468
At 31,551 acres, the Savannah National Wildlife Refuge stretches over both Georgia's Effingham County and South Carolina's Jasper County. Those who visit this nature refuge can find an array of vibrant Southern wildlife, including feral hogs, deer, turkey, squirrels, wood ducks, bald eagles, alligators, bobcats, hummingbirds, butterflies, and many more.
The Savannah College of Art and Design
516 Drayton St, Savannah, GA | 912-525-5100
With more degree and specialization programs than any other university dedicated to art and design, The Savannah College of Art and Design - known also as SCAD - is a private art institution with museums, galleries, and exhibits throughout its campuses. Founded in 1978, SCAD offers programs in fashion, animation, graphic design, illustration, painting, writing, performing arts, and much more.
Savannah Historic District
301 Martin Luther King Jr Blvd, Savannah, GA 31401
Corresponding roughly to the city limits of Savannah pre-Civil War, the Savannah Historic District is one of the largest urban historic preservation districts in the country. Located in the heart of the city, the Savannah Historic District is home to elegant restaurants, outdoor cafes, and local galleries surrounded by cobblestone streets, shaded parks, blooming gardens, and lush Spanish moss.
Owens-Thomas House & Slave Quarters
124 Abercorn St, Savannah, GA 31401
Opened in 1819 and operated today by Telfair Museums as a historic house museum, the Owens-Thomas House & Slave Quarters is a National Historic Landmark offering valuable insights into the history of enslaved people in the Lowcountry. A major focus of this site is the carriage house, which has been preserved and restored over the years.
The Cathedral Basilica of St. John the Baptist
222 E Harris St, Savannah, GA 31401
This palatial Roman Catholic cathedral and minor basilica is an iconic structure in the city of Savannah. Recognized throughout the city's skyline by its large steeples, the cathedral is an excellent example of French Gothic architecture within the American South.
Mercer Williams House Museum
429 Bull St, Savannah, GA 31401
Located at the corner of Monterey Square, Mercer Williams House Museum was completed in 1868. Designed by New York architect John S. Norris, the historic building maintains the original moldings, doorways, hand railings, shutters, stained glass interiors, and flooring. Visitors can now take guided tours of the opulent Savannah home.
Bonaventure Cemetery
330 Bonaventure Rd, Thunderbolt, GA 31404
Found on a bluff overlooking the Wilmington River, Bonaventure Cemetery is a rural cemetery made famous for its appearance in both the film and novel, Midnight in the Garden of Good and Evil. The cemetery includes over 100 acres of rich history, dating back to 1846 when the land was privately owned as the "Evergreen Cemetery."
The Telfair Academy
121 Barnard St, Savannah, GA 31401
Making up one of the three sites owned by Telfair Museums, the Telfair Academy is located inside a historic Savannah mansion that was designed by William Jay and constructed in 1818. The Telfair Academy showcases European and American artwork from the 1800s and 1900s. It's served as a museum since 1875 when it was passed onto the city of Savannah by Mary Telfair.
Juliette Gordon Low Birthplace
10 E Oglethorpe Ave, Savannah, GA 31401
Opened in 1818 in the center of downtown Savannah, the Juliette Gordon Low Birthplace was built at the birthplace of Juliette Gordon Low, founder of Girl Scouts of the USA. The site has offered a gathering place for girls for over a century. It is now owned and operated by the Girl Scouts of the USA organization.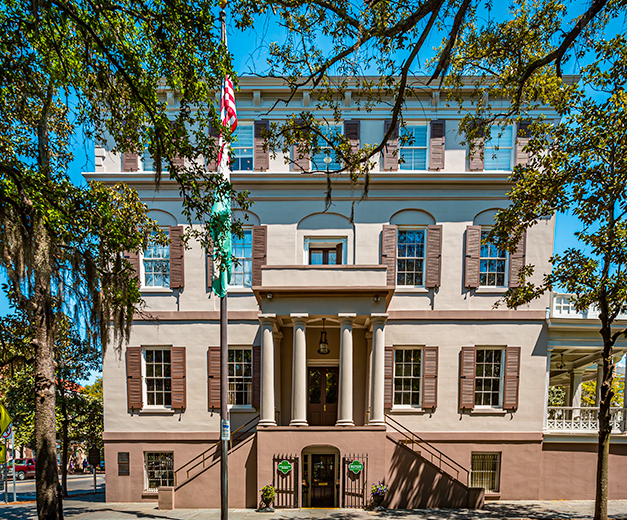 Chippewa Square
Savannah, GA 31401
Located centrally in Savannah, Chippewa Square was named after the War of 1812's Battle of Chippewa. The square includes a statue of General James Oglethorpe, founder of the colony of Georgia. However, it's also been made famous for one of its benches, which was prominently featured in the Tom Hanks movie Forrest Gump.
Sorrel-Weed House
6 W Harris St, Savannah, GA 31401
Also known as the Francis Sorrel House, the Sorrel-Weed House is a historic landmark first constructed in 1835. Offering one of the best examples of Greek Revival and Regency architecture in the city of Savannah, the Sorrel-Weed House is also rumored to be haunted by the ghosts of Francis Sorrel's wife, Matilda, and his mistress, Molly.
Wormsloe Historic Site
7601 Skidaway Rd, Savannah, GA 31406
The Wormsloe Historic Site is a large plantation featuring the ruins of a Colonial estate. Visitors can also find expansive gardens, trails, and towering oak trees throughout the land. The estate was originally established by Noble Jones, who was one of the colonial founders of Georgia.